Discover more from The Ghoulish Times
Newsletter for the many ghoulish projects of Max Booth III, including GHOULISH BOOKS, THE GHOULISH PODCAST, GHOULISH BOOK FESTIVAL, THE GHOULISH SHOW, etc
Over 4,000 subscribers
Hello and welcome to the latest issue of The Ghoulish Times. My name is Max Booth and this is my spooky newsletter. I am writing this on the morning of Tuesday, November 7th. I am sitting in my bookshop, with my dog Frank in my lap. He's a black dachshund wearing a mustard-yellow sweater. In January he will turn three. I don't bring him to the shop often, since he's a pandemic dog who never quite got used to "other people", but we've also been apart for nearly a week, and while the official excuse is "he's so attached to me I thought it was fair that we spend some extra time together today", the same can be said the other way around, because I'm just as attached to this little hot dog of a creature.
I thought today I'd write up a little recap of my recent travel and experience at Halloween Hangover in Richmond, VA. It was a really fun time—and, unfortunately, at least in the case of my drive back to Texas, a little terrifying. But first, a word from our sponsors:
---
SAINT GRIT INCOMING
Next week will see the arrival of Saint Grit by Kayli Scholz. Here are both the censored and uncensored covers in the flesh:
As a reminder: all paperback pre-orders from our webstore will come with a signed signature sticker from the author. Secure your copy HERE.
Earlier this week, Saint Grit was featured on The Line-Up's "4 Terrifying New Releases from Indie and Small Presses This November" listicle.
Here's a great Goodreads review for Saint Grit we recently discovered from Teresa Ardrey (of Horror Spotlight):
If I say "I'm gonna be honest here" you will think my other reviews are lies, which they aren't. But, as a saying that's ingrained in (at least my) culture, I'm gonna be honest here. Upon reading the description of Saint Grit and based on the cover, even the SFW one, I thought this book would be too spicy for me. Please don't @ me lovers of erotica, I am happy you are happy with it, it just isn't for me. BUT, that being said, I am so glad I gave Saint Grit a chance despite my concern for the spicy level, because, let me tell you, it is a great book. I mean, damn. And it IS spicy, but in a self-fulfilling, self-satisfying way. Because is isn't really about the sex, but getting out from under an oppressive small town where women are meant to be seen and not heard. Nadine takes her power and wields it with a heavy hand. This novella packs a punch in a small space. There are scary moments, filthy moments, off-putting moments, all delivered in a wry, fresh way. I didn't particularly even like Nadine, but I couldn't stop reading. WHAT WAS SHE GOING TO DO NEXT?
I say I don't usually like comps, but I know I have written at least three reviews lately where I added them, so, guess I won't stop now. I got shades of Come Closer by Sara Gran and The Low, Low Woods by Carmen Maria Machado and Dani. The former because it is an interesting take on possession, and the latter because there is definitely something wrong with the town of Sugar Bends.
---
HALLOWEEN HANGOVER RECAP
For those unaware, Halloween Hangover is an annual horror festival that takes place every November at the Libbie Place Barnes & Noble in Richmond, Virginia. It is typically hosted and organized by James and Tiffany (not sure if their last names are public knowledge, so will refrain from accidentally doxxing them). I believe it debuted last year, so this month was its second year but my first experience with the event—although, I'd previously done a solo-author signing at this particular B&N, so I was already familiar with the location and the good folks involved.
In my head, the travel aspect would have been far more expensive if I flew and rented a car, so I decided to make the 25-hour drive from San Antonio instead. However, in retrospect, I'm a little afraid to add up how much $$$ I ended up spending on gas and food (not to mention the hotel, which would have been unavoidable regardless of my transportation method). I probably should have just flown—especially after seeing everybody's expression at the event when they heard I'd driven in. These expressions said one thing and one thing only: Are you fucking insane, dude?
Since I was doing the drive by myself, I had to break it up in two days. Last Wednesday, I left the house around 6am and made it to my halfway point in Prattville, Alabama sometime that evening. And what should be waiting outside my balcony but literal paradise?
Thursday was also mostly uneventful. I made it to my hotel sometime late that night, and fell asleep soon after.
Friday morning, I had breakfast with my aunt and uncle downtown. They live in Pennsylvania, but drove over to say hi since we only met for the first time last year, after my mother passed away. They are good people and I look forward to getting to know them more. Until last year, I'd never spoken to anyone on my mother's side of the family except for her father. It's weird to think about so many relatives existing without ever having met them, much less spoken to them.
Friday afternoon, I showed up to B&N an hour or so before the event was scheduled to kickoff. Clay McLeod Chapman and I were immediately forced to help carry boxes of books from the breakroom to the festival area. We asked if we would be compensated for this labor, but James only cackled and sprayed us with a bottle of Windex and shouted, "Faster, book bitch! Faster!" I hate to say it, but the Windex worked. We moved faster and stopped asking about compensation. This is why James is such a good manager.
The Ghoulish Times is a reader-supported publication. To receive new posts and support my work, consider becoming a free or paid subscriber.
The festival was set up with two lines of author tables, with a walkable aisle split between them, so customers could go up and down, meeting authors and getting their books signed. Most if not all of the authors were paired two to a table. My table buddy happened to be the wonderfully talented Laurel Hightower. Knowledgeable ghouls should already know that we published Laurel's mothman superhit Below last year, and we are set to publish her gloomy family tragedy ghost novel The Day of the Door next spring, so it made sense for the two of us to be tabled together.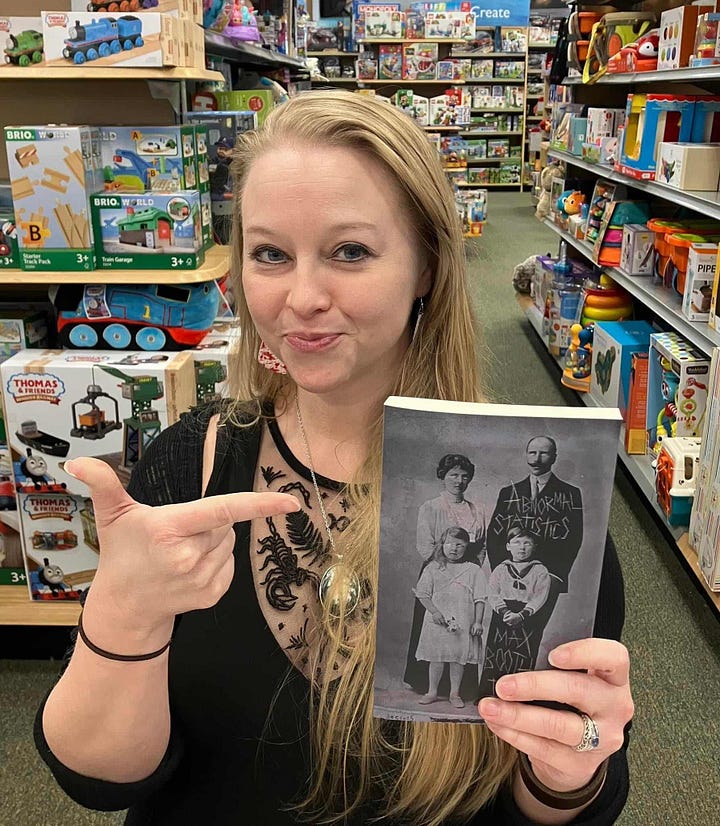 In fact, looking around at the other authors present, it struck me that I'd published quite a few of them. In addition to Laurel Hightower, there was also Jessica Leonard (Antioch and Conjuring the Witch), Jessica McHugh (The Green Kangaroos, The Train Derails in Boston, Rabbits in the Garden, Hares in the Hedgerow, and the upcoming Witches in the Warren), Paul Michael Anderson (Standalone), and Todd Keisling (Scanlines). Laurel and Jessica Leonard are two authors I'd already met, but Paul and Todd I've known for years and had somehow never crossed paths IRL before, so I was super stoked to finally meet them. And Jessica McHugh I met exactly once, at the debut Imaginarium Convention in Kentucky ten fucking years ago, so it was definitely a pleasure to reunite after so long. And those are only the authors I've published full-length books from—there were also many, many authors whose short stories I've had the honor to publish, such as Hailey Piper and Clay McLeod Chapman. Winter Holmes, who wrote a story for our Bound in Flesh anthology, also drove up to check out the event, which was a very pleasant surprise!
The next two days of the festival are already almost a blur in my mind. So I'm just going to share a few memorable experiences/thoughts and unload a shit-ton of photos:
Last year, during my solo-signing event at the B&N in Richmond, I had my dog Frank with me since I was traveling from Indiana following the death of my mother. This year, I did not bring him. When I showed up to my table, Tiffany informed me she'd brought Frank to Richmond instead, and pulled out a photo she'd printed from the internet for me to lay out next to my display:
When I have a table at an event, I am typically there representing Ghoulish Books. Usually I'll have my own books with me, but I try to keep them pushed to the side and primarily focus on the other books we've published. Halloween Hangover had me tabling strictly as an author. I was nervous, going in, but I ended up really enjoying myself. It also helped that, aside from a few things I brought along for consignment purposes (The Last Haunt and Ghoulish Tales), B&N had purchased all of my stock ahead of time, so I didn't have to worry about handling inventory or payments. It was also a little surreal, being someone who also hosts and organizes a book festival (the annual Ghoulish Book Festival in San Antonio). Many ghouls who attend GBF can testify that most of the people I can be seen running around the building, drenched with sweat, asking, "IS EVERYTHING OKAY?" to any poor soul who happens to make eye contact with me. But this time, none of that was my responsibility, and all of the stress of making sure everything was running smoothly kind of bottled itself up and resulted in a lot of nervous pacing. My main job was just to hang out, talk to readers, and sign books, and that is exactly what I did. Friday was decent with traffic, but Saturday we were swarmed with readers. By the time the event ended on Saturday, my hand was throbbing from signing so many books—a good thing, I assure you!

There were quite a few Texas authors present during the festival, so we decided to take a group photo to capture the energy:

An interaction that made the whole trip worth it: The very kind reader who approached my table and informed me I was their favorite author, and that they had all of my books. The conversation progressed a little deeper than that, but I'm not going to get into the details there. But I will say it was unexpected and very heartwarming. Made me feel like all of this shit means something after all, which is sometimes a hard thing to keep in mind. Next time you read an indie book that you love, reach out to the author and tell them this. The odds are great that they need to hear it. It was also really cool to see how many people who showed up with books of mine they already owned asking me to sign them.

Dinner Friday night was in downtown Richmond at some Irish pub apparently known for a perverted ghost. There was probably fifteen or so of us who showed up initially, so forgive me for not attempting to remember every name here, but it was a great time full of laughter and singing. Daniel Kraus sat next to me, and at one point, totally unprompted, tapped me on the shoulder and said, "Hey, who's that guy you love that I hate? Oh, yeah, Wes Anderson." It's been a long time since I've experienced negging at such an intense level. I have to admit that I respect it. He'd go on to explain why he brought this up, but the lack of context is funnier here, so that's all you're getting. The rest of the night was spent with each of us taking turns going into the public restroom hoping to encounter the aforementioned handsy apparition. As far as I know, everybody left unviolated.

During the weekend, B&N featured several author readings and panel discussions. I was scheduled on one panel: the Cryptids Battle Royal. Grace R. Reynolds was the moderator, and my fellow panelists were Jessica McHugh, Jessica Leonard, Vaughn A. Jackson, and Laurel Hightower (dressed as Mothman). I was dressed as the San Antonio Ghoul, AKA the SA Ghoul, and while some may claim it was a tough battle, the history books will tell you I definitely won the battle royal and it wasn't even close.
Saturday morning I had breakfast with Daniel Kraus at Shorty's Diner. If I told you what we discussed, you'd have to be killed. For dinner, about a dozen of us celebrated the end of Halloween Hangover by going to the local Hooters. I'll give you one clue about whose idea this was: Her name is Jessica McHugh. A lot of incriminating photos were taken, but I'll share only one: a group photo consisting of myself, Cynthia Pelayo, Paul Michael Anderson, and Jessica McHugh. Why is this photo special? We called it the Fuck Post Mortem Press photo. For context, all four of us started our careers publishing with this company (now defunct), and none of us ended up parting ways with them on good terms.
At some point on Friday night, a bunch of the authors were recruited to take a massive group photo at B&N. Here is the image from two angles (apologies for not crediting anybody for any of the photos in this newsletter, they've all been posted and reposted so many times by now that I had difficulty tracking down the original sources):
I feel it's essential to also show you the mysterious string of bloody testicles someone left on my table.
---
The drive home from Halloween Hangover was, unfortunately, not as uneventful as the drive there.
On Sunday afternoon, in Maysville, Georgia, traffic came to a sudden halt somewhere on I-85. Nobody would move for 90 goddamn minutes. Many people turned around and drove back in the emergency lane.
A lot of us killed our engines and got out to stretch our legs. We developed a bizarre, unexpected camaraderie with each other, checking in to make sure everybody was doing okay and had plenty of food and water. Kids got on top of their parents' cars and filmed themselves doing Tiktok dances. Others talked about where they had come from, and where they were doing. I debated and resisted the urge to pee in the nearby woods. 90 minutes later, traffic started moving again. Everybody cheered and ran to their vehicles. We gave celebratory honks and raised our fists out the window. Truly strange. I still don't know for sure what, exactly, caused the delay.
On Monday, while driving through Alabama, I encountered something far stranger: Being refused access to restrooms. I stopped at three different gas stations (each in a different small town), and was told I could not have a key to the restroom, despite there very clearly being a restroom for customers to use. The third gas station I stopped at, the clerk there refused to even speak to me. She just shook her head and stared at me like I was a piece of shit. When I asked her if she was going to talk, she turned around and faced the other direction and stared at the wall until I left. A friend of mine theorized this might've been due to my green hair, but surely it wasn't that stupid, right? Right?
I wasn't sure if the timing would work out, but I ended up going through Port Arthur, Texas at exactly 6pm, which is when my buddy Bob Pastorella (author of Mojo Rising and co-host of the This is Horror podcast) got off work, so I decided to make a stop and have dinner with him at a local chain he recommended called Hamburger Depot. I got a burger with a fried egg on top (my favorite kinda burger) and let me tell you: one of the best fucking burgers I've ever had. Or maybe I was just ravenous. Either way, highly recommended. Plus, I got to see Bob, and that's always a treat.
Somewhere just outside Houston, I forget where exactly, I was driving on I-10 toward San Antonio when my headlights revealed a large bulky item that appeared to maybe be covered in a black tarp. I had half a second to process what I was seeing before running it over. The entire right side of my car lifted up for a moment and I thought, Fuck. This was followed by a very loud THUMP THUMP THUMP THUMP noise that's universally associated with flat tires. I assumed both tires on my right side were flat, and pulled off the interstate and into the parking lot of a nearby Hampton Inn to investigate. Thankfully, I didn't have any flats. I got down on my stomach and pulled out a shredded piece of plastic that had wedged itself under my car. It looked like this:
I am not smart when it comes to many things, including cars. I am not sure what this is. It could be a piece of the plastic shield that covers my oil mechanism, or it could be part of whatever I drove over. Maybe it's someone else's tire? I don't know. Either way, I chucked it into the woods, then walked into the hotel to wash my now-filthy hands.
The lobby was full of pissed-off guests and one very frantic night auditor trying to explain some dire situation to someone on the phone. I eavesdropped for a moment, remembering the 8 years I spent working the night shift at a hotel before quitting in the summer of 2020, and a wave of hospitality PTSD shot through me like a bolt of lightning, and I thought, Holy shit. I need to finish writing more books while I still have the chance.
I ended up getting home a little after midnight, and was ambushed by some very excited dogs.
Ending this newsletter now several hours after starting it, it occurs to me just how tired I still am. Not only did I just do an insane amount of driving, but I also crossed time zones during Daylight Savings. My brain is scrambled and I've not had enough time to properly recover from the journey. But I am very, very glad I went. If I saw you over the weekend, thank you for showing up and making the event all the better. And thank you to Libbie Place B&N for putting on some a fun time for us all.
---
Movies watched on various hotel televisions during my trip: Be Cool, I Tonya, Agent Cody Banks 2: Destination London, Blindspotting, and Election.
Books read (either finished or started) during my trip: From a Buick 8 and The Tommyknockers by Stephen King (both audiobooks), Blue World by Robert R. McCammon (paperback), and Yellowface by R. F. Kuang (hardcover).
---
In 2023 I've published two new books of my own. Those would be Abnormal Statistics, a story collection, and The Last Haunt, a novella. Both can be purchased through the usual channels—or, if you'd like to snag a signed copy, you can buy them directly from the GHOULISH webstore. Get Abnormal Statistics HERE and The Last Haunt HERE.
---
You can also buy this ghoul a coffee over on ko-fi.
---
View our LINKTREE for ways to connect with us and support us elsewhere.